Google Suite for Business: Why you Should Use It
Google Suite for Business
Google Gmail has one of the highest active users in the world with over 1 billion users every day. To put that into perspective, that's over 20% of the world's population. Did you also know that Google is available as Google Suite for business? This is not Google My Business listings as found on Google Maps but rather a suite of applications available for businesses. Formerly named as Google Apps for Work, G Suite gives you the same extensive tools that can help you scale your business. That's all the familiar tools that can help you collaborate, share and increase productivity; essential to your daily work. Whether it is Google Calendar, Google Contacts, Gmail, Google Drive and Docs, and Google Hangouts. You can use all this within a controlled environment with administrative settings. For a complete list of apps provided within Google Suite, Check out Google's official site to find out more. In this post, we will share the different benefits that you might find useful for your business and how you can scale accordingly.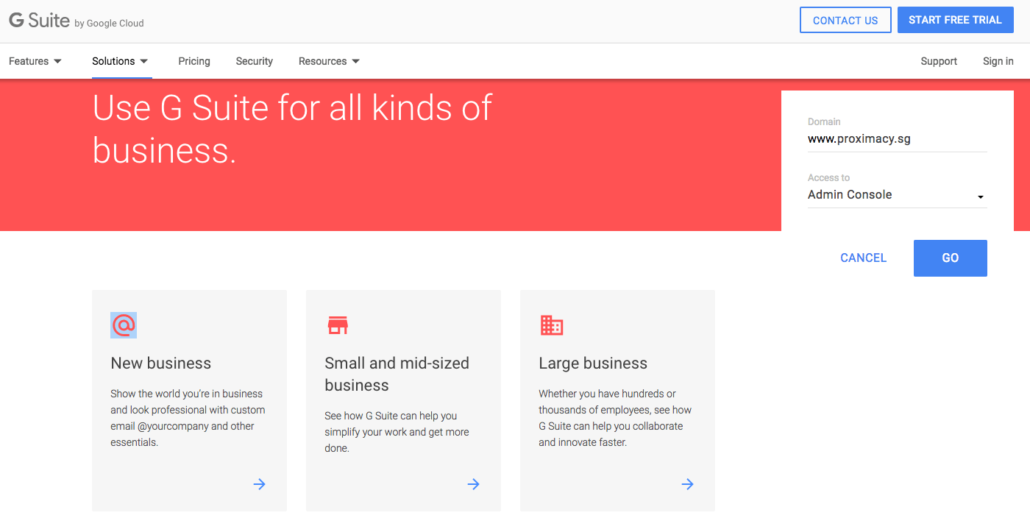 World Class Security and Encryption
In today's day and age where security lapses are common, it can be expensive to employ good cybersecurity protocols to protect your data. Your data in Google suite is kept securely in Google's data centres and there is always redundancy for your data. if you have an issue, Google also has a 24/7 hotline for your convenience to speak with one of their officers. Find out more about Google Suite security protocols through the link.
Because all of your data is in Google's Cloud system, you don't have to bloat your computer with tons of company data but keep it all in the cloud. Wherever you are, you have access to the documents… provided that your administrative settings allow that. As the administrator, you have the control over how your employees get access to company information.
Save Money
As mentioned earlier, you get access to Google's whole suite of useful apps such as Gmail, Docs, Drive, and Calendar. It might seem counter-intuitive since they are all available for free but you get many more features as a paid user. If you calculate the number of tools and cloud storage you get for the nominal fee of $5 per month, you stand to save much more than the individual tools that you might need to get.
Standard Users
As a standard user, basic plans is free for teams of 10 and will only cost $5 for each additional users. Accounts also get 30GB of storage and the capability to set Alias Addresses.
What is an alias address?
Alias Addresses are email addresses that you can use to forward emails to your inbox. For example, If employee A: Stacy manages the help inbox, she can receive both stacy@company.com and help@company.com into the same inbox. She will also be able to send as both help@company.com and her name to clients. This is extremely useful for employees with double roles.
Business Plan
Though there is not a lot of changes, you get unlimited storage and archiving and the ability for low-code app development environment for power users for a low cost of $10/user. You also get a lot of controls available through this plan. There is also an enterprise version but you'll definitely want to reconsider as each user is $25/user.
Dynamic Team Collaboration
If you work in a traditional office, you'll probably have to keep renaming your documents so that everyone knows who has the latest copy. With Google's suite of tools such as Google documents, everyone can work on the same document simultaneously. You can even check who input a certain mistake and also chat and brainstorm while on the document even if you are not in the same location. This allows for remote working which is extremely relevant in today's interconnected society. With these features, you can complete projects quicker, accurately and save time.
 Simplified Organisation
Whether you have a meeting over a video call or set up meetings on Google calendar, you can easily organise such meetings through the suite of apps. In addition, you can synchronise your work calendar and personal calendar so that you see everything you have whether it is work-related or personal meetings.
Administrator
As an administrator of your business, you can manage users directly through your settings. You have the ability to restrict access to certain files or individuals if they are not involved in the project. You can even see the individual log for each user and see what files are being uploaded and downloaded. In a world where information and data is king, it is important to safeguard your company's interest.
Communication
Google Hangouts
Every country has a preferred application for communication, Singapore uses WhatsApp primarily, Korea uses Kakao Talk, USA uses IOS's Messages extensively and WhatsApp. For users within your organisation, Google has Hangouts. With Hangouts, you can easily communicate through your mobile device with video audio and text messages. Google Hangout supports up to 25 users and you can easily access it through Gmail.
Google Gmail
I don't think Gmail needs any introduction. Gmail is one of the most comprehensive emailing platforms there is and receiving emails and sending them is a breeze with Google. Receive almost instantaneous emails without second-guessing whether there is any delay or if it has gone to the client's spam server in the mail server.
Conclusion
Google Suite combines what most users know into a comprehensive suite with a ton of features. With the features that Google offers small-medium businesses and a starting storage of 30gb, Google Suite is suitable for most businesses for a low cost looking for the most value.
If you are interested in using Google business but don't know how to implement this into your existing business and email, you can contact us at our email or our hotline at 9111 3322.
https://proximacy.sg/wp-content/uploads/2017/01/logo-300x138.png
0
0
Site Default
https://proximacy.sg/wp-content/uploads/2017/01/logo-300x138.png
Site Default
2018-07-27 09:00:30
2018-07-26 18:00:31
Google Suite for Business: Why you Should Use It