Google Flights Launches In Singapore
As a proud Singaporean, I am proud to say I'm a bargain hunter. Whether be it food, online shopping, travelling or even flights, the price is usually one of the top factors in making a decision. Google, the biggest search engine provider just launched Google Flights in Singapore. The online app is akin to sky scanner, which allows visitors to compare flight prices for any destination and even seek out ideas if they do not have an idea where they want to go next.  This is in line with their whole suite of apps which integrates everything into the Google platform and It is more than a welcome sight.
Currently, for travel-related services, Gmail already pulls all hotel/apartment reservations, flight bookings and other reservations from Gmail to provide you with an insight into how your day pans out. And Google trips allows you to plan your holiday and find new things to do.
These two apps are key apps that I use myself and I solely plan on these apps and Google map. With the new addition of Google Flights, It would seem Google is turning whole circle to encompass everything to do with your travels.
Google Flights
As an overview when you reach the website, you are greeted with a few suggestions on various destinations. You can also see your recent destination and also decide if you miss that place too much and would like to have a repeat trip there.
The whole site works like any airline website or sky scanner albeit much faster and responsive. The outlook is also much cleaner and still retains the function of finding you the best prices for your flights or whether you would like to travel by economy, economy plus, business or first class.
If you have no idea where to go, there is also a map view which allows you to see at a glance the prices for each city and country.
Price Tracking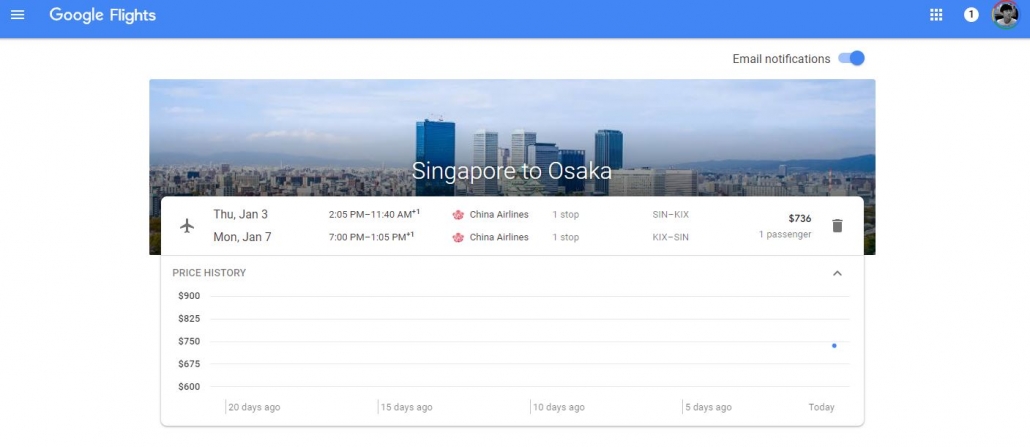 If you have a limited budget or are tracking a destination, you can use the "Tracked Prices" to track down your tracked destination for the lowest price. Simply toggle the track prices option and anytime you are logged on you can proceed to the Tracked Prices to see all your tracked flights and even the price history.
What I want to See
Although this is a welcome sight to see especially since I'm so heavily invested into Google, plus our services such as Search Engine Optimisation and Google Ads services are more or less intertwined with Google, It would be pleasant to see some integration with their existing services such as Google Maps in starring locations and even some sort of link to Gmail. integrating the web interface with Google Trips will also be a welcome sight so I can conduct all my planning into one single application.
https://proximacy.sg/wp-content/uploads/2018/12/Google-Flights-Logo.jpg
964
2000
Site Default
https://proximacy.sg/wp-content/uploads/2017/01/logo-300x138.png
Site Default
2018-12-19 15:32:01
2018-12-19 16:59:39
Google Flights Launches In Singapore