Wix or WordPress, Which is Superior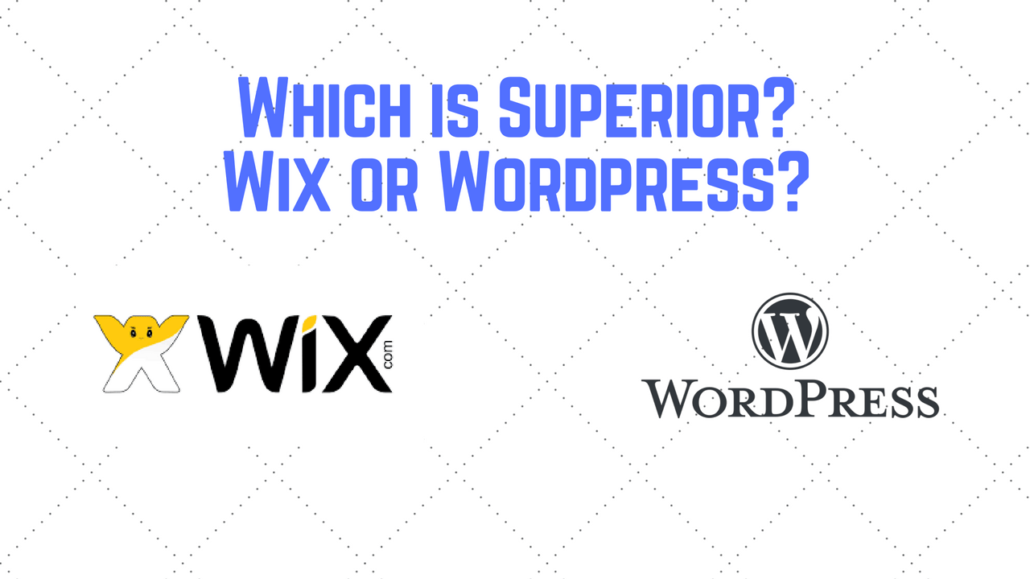 If you intend to create a corporate or a personal website, you might be thinking about using either these two platforms: Wix or WordPress. However which is the better option for you? In this post, we hope to break down the pros and cons of using the two and hopefully, help you make a better-informed decision which to go by.
Wix
Wix.com is a developmental platform that allows one to create their own website using HTML 5. It supports both mobile, e-commerce and normal websites through the use of drag and drop tools. Its a growing platform that started in 2006 and has several price points which start for free to over 25 USD per month for users with different needs. Its rise to popularity stems from easy to use and edit tools which do not require any HTML or coding knowledge. That said, Its use is fairly limited due to the closed platform that it has. Limiting you to functionalities that Wix has.
WordPress
WordPress similarly is an open-sourced and free developmental platform that is based on PHP and MySql. It is the most popular Content Management System (CMS) to date and over 75 million websites use it. Even reputable companies such as Sony Music, The Walt Disney Company, Xerox, BBC America, Bloomberg Professional and even Sweden's official website are using WordPress. This is a testament to the viability and adaptability of the platform. Websites on WordPress can be built absolutely for free and does require some IT knowledge to operate. Simple things such as getting a host, purchasing a domain name and linking your domain name to your host by means of nameserver and additionally, installing WordPress to your host. There are also many hosting platforms that can help you install WordPress if you do not know how to. Because WordPress is open-sourced, there is over 44,000 plugins that you can use that can achieve your goals. Whether be it an e-commerce site, a corporate site or even different management systems.
What Are the Differences?
With the short introduction out of the way, we can now get down to the things that set the two platforms apart. We will be comparing 5 aspects which include the following:
Price
Ease of use
Future Developments
Professionalism
Support
Price
Price is probably the biggest factor for anyone and thus should be addressed first. For someone diving into the online world. Price is definitely sensitive and will be your first concern. For a traditional website, you will have to look into the monthly hosting cost as well as the domain name registration. Let's see how the two stack up against one another.
Wix
While Wix offers a free tier. it is not without its disadvantages. For one, you are stuck with a subdomain which will not look professional. Subdomains, as the name implies, are a subsidiary of the main domain. It can look something like this: yourdomain.wix.com. You can, however, move up a tier to the Combo Plan which costs $8.50USD. This allows you to get a free domain for 1 year and remove any Wix ads on your site. However, you are still limited because different functions such as contact us forms are still locked and you require to go up another tier to get the full freedom.
As a guide, I would recommend the unlimited plan for the majority of sites and the eCommerce plan if you want to build an eCommerce site.
If you break down the cost, it will look something like this: (Table does not include domain name registration)
| | | |
| --- | --- | --- |
| Item | Cost | Yearly Cost |
| Combo Plan | 8.50 | 102 |
| eCommerce Plan | 12.50 | 150 |
As you can tell, it isn't that expensive to get a website up and running and is fairly incomparable to WordPress which you can find below. One thing to note is that Wix charges per site. If you intend to have more than 1 website, your costs will definitely increase significantly.
WordPress
WordPress as a standalone product is completely free. However, you do need some knowledge on purchasing a host to place your files on them. As a solution Bluehost offers great priced hosting plans for a low $3.95 USD. If you want to create more than 1 site, you will have to bump it up a plan to their "Plus" Plan for $5.95.
| | | |
| --- | --- | --- |
| Item | Cost | Yearly Cost |
| Basic Plan | 3.95 | 47.40 |
| Plus Plan | 5.95 | 71.40 |
If course, if you have a lot of websites, there are also more premium plans available for higher costs. From this, you can tell that WordPress is clearly a cheaper option. For the higher tier plan costing less than half of the eCommerce Plan.
Verdict for Price
WordPress is a clear winner here with their higher end plan just costing $71.40 compared to Wix's eCommerce plan for a yearly cost of $150. In addition, hosting providers usually have a lot of customisation available which allows you to tailor your hosting plan to your needs. This can't be said for Wix's plans which are very inflexible and does not allow for a lot of customisation.
Ease of Use
For someone that has no prior knowledge of HTML or coding, ease of use might be an important factor. Especially if you are doing the website on your own.
Wix
Wix utilises drag and drop tools that on a difficulty scale is almost childlike. Editing your content as well as functions are extremely straightforward and you also get to see what happens to your site in real time. There are also 500+ templates available so you should be able to find a template to fit your business needs. Of course, some of the tools require you to be in a different price tier so watch out for what you need. One disadvantage though is once you have chosen a template, you cannot change it. You can only modify it with different text and the different tools available.
WordPress
WordPress also comes with over 15,000 themes as of July 2017. The vast amount ensures that you can choose what you want. In addition, if you feel that the theme doesn't suit your needs, you can easily change another theme with the majority of your function still working. Editing your content and adding functions still require some knowledge and skill. However, once you get the hang of it, you'll notice that WordPress is much better in terms of adaptability and working around.
Verdict for Ease Of Use
Wix is still one of the easiest to use especially for beginners who have no knowledge of how to create a website. That said, WordPress still has the largest selection of themes and plugins available which Wix might not have. It is important to figure out what your business needs and check if the platform has the functionality.
Future Development
Wix
Because Wix is a closed platform, any future developments or update is dependent on Wix as a company. That said because the built-in tools and themes are also made by Wix, you are guaranteed a good working system no matter what updates may come your way. Support is also great from the company. You can either call them, email them or do a live chat with them to get any form of support.
WordPress
WordPress is an open-sourced platform which means a majority of its plugins and themes are made from third-party developers. While WordPress consistently pushes out updates and developments to make WordPress better, You still need to rely on your theme and plugin's developer to make it compatible with the latest update. This is why it is important to use high rated themes and plugins where there are good support and constant developments to make it better.
Verdict for Future development
It is without a doubt that Wix has this in the bag. Because they have limited tools and themes available, it is easy for Wix to upkeep with their resources and ensure that everything is within their control. WordPress still has more to go in this aspect and you are dependent on the respective theme and plugin owners for updates.
Professionalism
In this aspect, we are talking about how your website can look, how people perceive your website and viability for long time use.
Wix
While Wix websites tend to look professional by nature due to the drag and drop feature, people tend to perceive Wix websites as amateurish. Conduct a search on notable companies using Wix and you'll probably come up with no results. Companies and businesses tend to have a budget when it comes to such intellectual property and Wix just does not stand out to be something that is professionally done or maintained. If you are looking for a short-term use, Wix might be a good choice. However, if you are planning to create a company and extend in the future, Wix might not be the best route for you.
WordPress
While WordPress might seem amateurish because you are not hard coding to create the site, the fact of the matter is that many notable companies do use WordPress. Not only is WordPress flexible in providing what your business needs, it can also expand to fit future goals and still look professional throughout. In fact, it is quite difficult to tell if the website is a WordPress site unless you are an experienced developer.
Verdict on Professionalism
WordPress wins hands down on this aspect, In a nutshell, Wix websites, in my opinion, should be made for short-term projects or a test on the viability while WordPress tends to be a better all-rounded solution for websites.
Summary
While both platforms have an end goal of creating easy and adaptable websites, WordPress still has the upper hand due to its open-sourced and free nature. Everyone can collaborate and share plugins and themes that works compared to the profit-driven Wix. However, it is important to first identify your business needs and choose the one that is right for you. For many people, they are likely to go by the wordpress route because it is more future proof and can be easily upgraded according to growing needs. Many companies and businesses also choose WordPress because there are many Website Designers in Singapore that offer affordable rates. If you are looking for one, we also have a whole suite of services available whether be it website design, search engine marketing, social media marketing or even email marketing. Do contact us for more assistance.
https://proximacy.sg/wp-content/uploads/2018/01/wix-or-wordpress.png
720
1280
Site Default
https://proximacy.sg/wp-content/uploads/2017/01/logo-300x138.png
Site Default
2018-01-09 12:00:01
2018-08-08 17:58:06
Wix or WordPress, Which is Superior