5 Free SEO Tools I use to Improve Proximacy
If you are an in-house marketer and have the arduous task of managing your company's online properties such as websites, or online marketing materials, you probably know how essential SEO or tools are. In this list today, I will be sharing a few of my most used SEO tools to help me manage my clients and Proximacy's website. These 5 free SEO tools range from SEO tools to track my rankings to tools to help me post simultaneously to different platforms. Most of these tools I use is completely free and can be utilised by all.
IFTTT
One of the most invaluable free tools I use is IFTTT, also known as "If This, Then That". It's an ingenious way to link different applications and devices together. This means if you have multiple platforms or applications you use to market your products, posts or services, you can get IFTTT to automatically link them together and post them for you in a single post. There are hundreds of different methods of using this website but I'll just share those that I feel is useful for my method of working. These instructions are also known as Applets and they direct IFTTT on what to do when an event is triggered.
Facebook Auto Posting
Proximacy is a website that provides online marketing services to businesses and individuals and we also post regular tips and tricks to the public. As such, we are constantly posting articles and blog posts onto our website. As much as possible, we also want to engage with our audience on Facebook so Building an Applet to automatically post our blog posts onto our Facebook page is essential.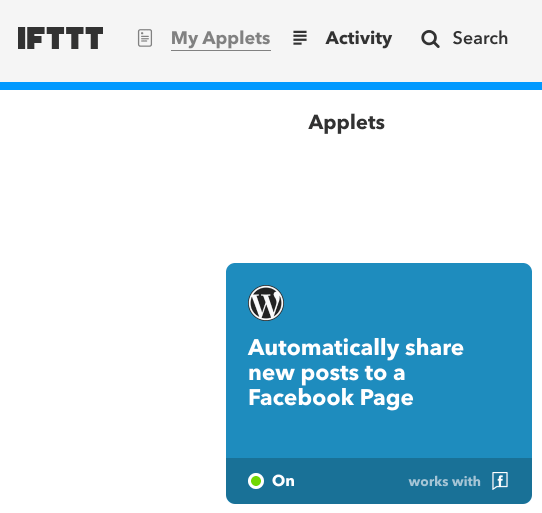 Start by creating a new Applet. From the "choose a service" page, you have over 100 types of services you can choose from and to help make your life and processes more streamlined. But for a start, we will choose WordPress. You can choose between "any new post" or "new post with tag or category". Because I want my facebook to be automatically updated when I publish a post, I will choose "any new post"
Next, you want to fill in "that", this completes the equation of "when a new post is created on WordPress, then create a link post on Facebook"
If you are worried you are unable to customise the message on facebook, you can actually add ingredients and custom texts so it looks more personal. Once you create the action, every time you post something new on your website, it will automatically post the same entry on Facebook.
There are a ton of customisation you can use with IFTTT and its really up to you to determine how your business processes work.
Image Compression
If you have been following our posts, you will know that conversions on a website are heavily dependant on the speed of your website. If you want to learn more, check out our post about how to speed up your website. To summarise the post, image compression is essential for all fast websites. Contrary to belief, compression takes away very little to no quality loss at all. If you place a full sized image on your website, your visitors will spend a lot of time and data waiting for the images on the site to render. In addition, It will drain your server's bandwidth resources quickly.
Optimizilla
I personally use Optimizilla as my first choice. Not only is it available online, it also completes the job quickly and you can upload up to 20 images at a time. There is also an easy gauge you can use to determine the quality of the image. Do note that the website already optimises the images automatically. 
To start this process, just drag or upload your pictures on the website. Once it has automatically compressed your images, you may choose to download the optimised images or even adjust the quality yourself. 
Search Engine Optimisation
If you have been tasked with SEO or Search Engine Optimisation for your company's site, you'll know how expensive it is to purchase tools to help you track your progress or to help you to find places to post links on. One free tool I can recommend for personal businesses besides the Google tools such as Google Search Console or Google Analytics is SEO Powersuite.
SEO Powersuite
SEO Powersuite is a free software that within its ecosystem contains a few software you can download for both Mac or Windows users: Rank Tracker, Link Assistant, WebSite Auditor, and, SEO SpyGlass. In brief, this four software help you with different aspects of your website. There is a free version which can help you track one website at a time and with limited functionality and a business and enterprise version which will unlock different features. For a single business user, the free version is sufficient for simple tracking and use and should prove useful for your personal use.
Rank Tracker
Rank Tracker helps you to conduct keyword research and track the Search Engine Ranking Position on the various search engines such as Google, Yahoo and bing. While Google's keyword planner can help you to do keyword research, Rank Tracker provides more avenues to research on. You can also track your competitor's ranking and see the difficulty of the keyword to rank it.
WebSite Auditor
This tool helps you find onsite errors in your website, It also gives you the backbone structure of your website and also provides you with important metrics such as title tag, description tag, click depth and URL to name a few. This tool truly helps you with your onsite optimisation in a long run and keep track of what is missing on your website.
SEO SpyGlass
More for advanced users, SEO Spyglass helps you find your links that are pointing towards your website. This allows you to monitor them and also determine whether spam is building up on your website. From there you can use Google search console and disavow any bad links that could penalise your website in a long run.
Link Assistant
5 Free SEO Tools I use to Improve Proximacy
Similar to SEO SpyGlass, Link Assistant is a link management tool that helps you to find different types of links from various platforms such as Guest posting, directories, blogs and many others. Link Assistant can also help you to email the website administrator to get a link.
Website Speed
Optimising your images, working on Onsite Optimisation is part and parcel of improving your user experience and website speed. Website speed is also becoming an important factor in Google's ranking algorithm so it is important to take note of these. I usually use two different types of platforms for this to test my website. GTmetrix and Google PageSpeed Insights.
GTmetrix
One of the best tools in checking your website speed, GTmetric analyses your website and uses different tools to check the bottleneck issues in your website. It also includes important recommendations that you can pass to your web developer to help optimise your website.
Simply input your website and it will start to analyse your website in its entirety. It even breaks down for you into different sections so you understand what to focus on.
Google PageSpeed
One of Google's tool, it is the "holy bible" where you probably have to scrutinise your website over when it recommends you something. Since the tool comes from Google, its likely that those metrics that they advise you will be used to either reward you with better ranking or penalise your website for not following its guidelines. Either way, Google is taking a hard stance on website loading speed and you should too. Especially if you want to retain your visitor count or improve it.
https://proximacy.sg/wp-content/uploads/2017/01/logo-300x138.png
0
0
Site Default
https://proximacy.sg/wp-content/uploads/2017/01/logo-300x138.png
Site Default
2018-08-15 17:21:00
2018-08-15 17:21:00
5 Free SEO Tools I use to Improve Proximacy